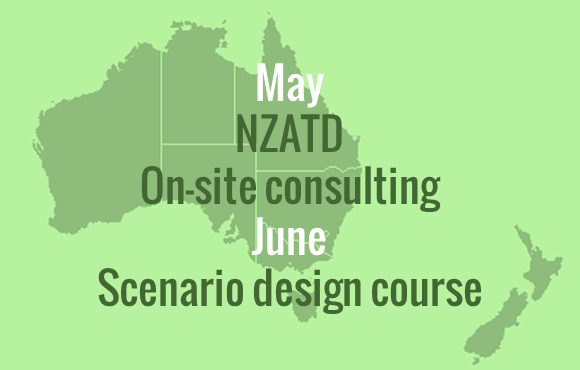 NZATD Conference
In mid-May, I'll be presenting and running an informal workshop at the NZATD conference in Auckland. My main theme will be "Jedi mind tricks for training designers" — how to recognize and gently change the mindset of clients and colleagues.
On-site consulting and brainstorming
I'll be available for a limited number of site visits in the region in May. I'm calling them action mapping accelerators.
In a one-day visit to your workplace, I'll help you:
Identify and conquer the forces that are inspiring information dumps
Help your team transition from content producers to valued performance igniters
Establish new procedures that make it easy for everyone to create activity-rich materials
More deeply embed action mapping in your workplace
Another alternative is a half-day brainstorming session: Everyone brings a current problem or project, and we figure out how to make it work. Sound interesting? Let's talk.
Pacific-friendly version of the scenario design course
The June version of the live, online scenario design course has a session in a Pacific-friendly time. In the past, very dedicated people from the region have attended at 4 AM, but now you can become a master scenario designer at a civilized hour. Check it out.