You're at the county fair. Your kids are off watching the pig race, and you're starving. There are only two food carts nearby. One sells deep-fried pork skins from a pot of bubbling grease, and the other sells sushi from a styrofoam cooler. You decide to buy the sushi.
As you hand over your money, a disembodied voice suddenly booms from the clouds above. "Incorrect!" it intones. "Unrefrigerated sushi can harbor zygodread, which can cause severe vomiting. You should never assume that a cooler at a county fair contains ice. It's always safer to buy hot food that's cooked in your presence, such as the pork skins. Try again."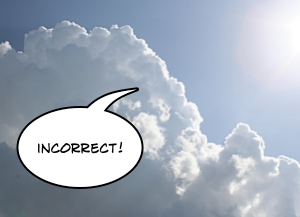 You've just met The Omniscient One. It's the personality-free know-it-all that drones through most elearning. When it intrudes into decision-making scenarios, it sucks the life out of our stories and the brains out of our learners.
"I know everything, and you have no brain"
The Omniscient One (the OO to its friends) is a big fan of telling feedback, because it knows everything. It not only tells us whether it approves of our choice, it also explains exactly how we have sinned and what we must do to atone. Like the folks in your legal department, it believes that no adult can be trusted to draw even the simplest conclusion on his or her own.
An alternative: show the result
In the real world, we'd remember the sushi lesson best if we ate the sushi and then spent three very unpleasant days. In elearning, you could call this showing feedback because, well, the elearning shows (or at least describes) the results. The feedback isn't a pronouncement from on high but is instead something like this: [Read more...]