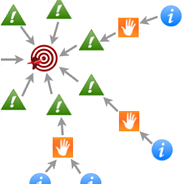 Do learners in your organization complain about boring e-learning? Surprise and engage them with lively, activity-rich materials that encourage real-world change.
Length:
60 minutes
Audience:
People who design elearning for adults in business
Prerequisites:
Some familiarity with training or elearning
Goal:
Participants will use a streamlined instructional design process that will help them identify the most powerful activities for an elearning project, cut excess information, and support measurable performance improvement.
Description:
In this interactive session, participants will use a visual organizer to analyze a performance problem and identify the learning activities and support materials that will solve that problem. Then they'll flesh out the design with compelling activities and just enough information. The action mapping approach will help participants:
Pinpoint the measurable performance improvement that their materials will help create.
Identify why people aren't performing as needed and how elearning could help.
Create compelling, realistic scenarios that motivate learners and let them learn by doing.
Cut the information they don't need—and get subject matter experts to agree.
Identify what information should go in job aids and other easy-to-update support materials.
Participants will end up with a streamlined design process that will make their e-learning and performance support lively and memorable. Here's an overview of the process that's taught in the workshop:
Format:
Each workshop is a mix of presentation, group design simulation, and discussion. I ask participants thought-provoking questions throughout the session. Sessions can be recorded and distributed internally. Virtual workshops are held online using your web conferencing software. Participants use chat (typing) or audio to share ideas and ask questions. You might watch
this recording
of a public action mapping webinar to see the type of interaction I use and the typical content.
Simulations:
In the workshop, we apply new concepts to realistic but easy-to-understand training challenges, such as increasing security or reducing injuries in familiar settings. This helps participants practice new design skills without being distracted by unfamiliar content. While the examples used are standardized, the discussion is tailored to your audience. More customization is available; please see below.
Webinar fee:
For the standard workshop delivered using your web conferencing software, my fee is $875. There's no limit to the number of participants, and you can record the session for internal use. If you need me to provide the webinar platform or you'd like a custom workshop, please
contact me
.
On-site fee:
Please
contact me
for pricing.
Hands-on design aid available:
After a workshop, help your team continue to apply their new skills by giving them access to the Elearning Blueprint, an interactive job aid that helps anyone design lively elearning.
Learn more
about the blueprint.