Need to design lean, lively elearning? You might get ideas from this recording of a webinar that I gave today for the Baton Rouge ASTD.
It's about 45 minutes long and shows how to use action mapping to quickly identify which content and activities will be most useful.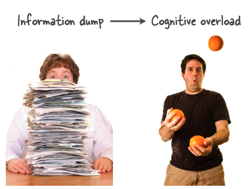 The webinar shows how to:
Choose a goal that leads to a measurable business improvement
Brainstorm realistic activities that help learners apply their new knowledge on the job
Identify what content really needs to be included—and what can be cut
Decide what should information should go in a course and what should go in a job aid
You can also download a PDF of the slides, but they don't make a lot of sense on their own.
I'll publicize future webinars in this blog and through my Twitter account. I didn't announce this one because it was my first time flying solo as both a presenter and moderator in Elluminate.
Related posts