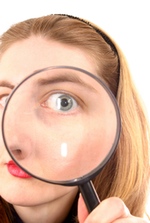 You lurch awake at 2 AM, thinking, "What if the client asks where I put sub-policy 12.5B? Did I cover it? Where?"
At the start of an elearning project, your client will often give you more information than will be useful. Some of it will go into your elearning material, some will go into job aids, and some will get cut. Here's one way to track what happens to your client's favorite content.
1. Agree on the goal and activities.
Make sure the client and you agree on what the materials are supposed to accomplish and, therefore, what content is likely to be included. Action mapping can be handy for this.
I start the content-sorting process when we've agreed on a high-level outline that briefly describes each activity and suggests what information will be needed.
2. Copy the client's content files.
I work from copies so I can mark them up. The originals go into an "originals" folder.
3. Choose a place to dump the relevant info.
Your client has probably given you several files in different formats. Often, you need to pull bits of content from all of these files. I put the information I've pulled into one document, either an action map or a Word file.
Action map: For mapping, I use Compendium, which lets you paste text, PowerPoint slides, PDFs, and web sites in the map. That way, I can link the raw content directly to the activity it will support. This makes it easy to locate the relevant information when I write the storyboard. Other mind mapping software also lets you include documents; if you have a favorite program, please recommend it in the comments section.
Word dump: If I'm not building a Compendium map, I put all the relevant content into one Word file.
4. Move the info into your content dump and color code it in the source doc.
Write summaries, take screenshots (on Windows, I use SnagIt), and copy and paste the relevant content into your action map or master Word dump.
When the source document is a Word file, I mark it up as I pull information out of it, highlighting text to show what I did with it. For example, you could use these colors:
Grey: Not used anywhere (course or job aids). I might add a comment to remind myself why I'm not using that content.
Green: Will be used somewhere in some form. This means I've copied and pasted this info into the action map or master Word file. I usually add a comment to remind myself where the information will be used, like "quick reference card" or "eavesdropping scenario."
When I'm done, everything in the source file is marked either grey or green, and there are comments recording my decisions. Later on, if the client asks what I did with a specific bit of content in a particular file, I can open that file and answer immediately.
For PowerPoint decks, I often don't mark the slides as I pull them, because it's usually easy for me to remember what I've done with a slide.
5. Paste the pulled information where you'll need it.
Paste the information in your action map or Word content dump in an order that makes sense to you. For example, if you're writing a linear course, your Word content dump might follow the course organization.
As I paste, I usually add comments reminding myself where the information came from. If I'm using a Word doc, I also add headings to make it easy to group information by activity.
6. Identify missing or conflicting information.
Now that you have all related information in one place, it's easy to see what's missing or conflicting. Ask the subject matter expert (SME) for help by sending him or her specific questions (not your content dump). For example, you could send an email pointing out that Carol's PPT said X, while the IT policy document said Y. Which is correct?
7. Write the storyboard and draft the job aids.
Write the storyboard and job aids, incorporating the client's information in its most useful form. This usually isn't a word-for-word copy of the original content.
For example, a paragraph that warns staff against sending account information over unsecured email could become a scenario in which someone sends an unsecured email and exposes a client's account information. You might try to replace as much text as possible with an activity or scenario.
As you use information, mark it or (more satisfying) delete it from your map or content dump. You might also find that some of the information you pulled isn't relevant after all. You might want to mark it as grey or otherwise record your decision in case the client asks about it.
8. Send the storyboard and job aids for review.
It's a good idea to have the SME and other stakeholders review your storyboard and draft job aids before you develop anything further. Send them just the storyboard and job aid drafts. The marked-up source documents and content dump are just for your records.
I've gotten the best results by writing very specific SME questions directly in the storyboard and highlighting those questions in yellow. Ideally, the SME answers the question by typing right there in the document.
At the end of a project, I save both the marked-up source documents and the unmarked originals. If the client wants to update the elearning materials later on, it can be helpful to have a record of the decisions I made during the first round.
How do you keep track of details? Does your team have an official process in place?
Related posts