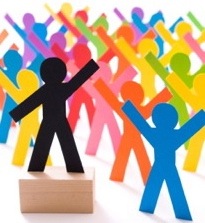 Want to show that your elearning adds value? Tom Kuhlmann recently suggested these steps:
Meet your customer's expectations
Align your projects to real measurable objectives
Control production costs
Measurable goals and controlled costs are vital. Of course, we also want to meet our customer's expectations–but are those expectations always best for the business?
Sometimes we get the best results by challenging our customers' expectations–in a helpful way, of course.
"Put this PowerPoint online and make it look slick. We need it in a week."
Many of our customers want us to put lipstick on a pig, fast. Let's say we've got one of those customers. They have a PowerPoint presentation about safety on the shop floor. Here's a typical slide:
When loading a widget onto the widget rotator, it is important to remember the following:

The rotator can't support mega-widgets.
Lift using your legs, not your back.
Securely strap the widget to the rotator. Do not use bungee cords.
Micro-widgets can be attached using bungee cords.
If power fails while a widget is on the rotator, the rotator will lock. Unlock it by pushing the widget release lever forward, then back.
The customer believes that putting the PowerPoint online will reduce injuries on the shop floor by 5%. We obediently apply some lipstick to their PowerPoint and put it online in a week.
We might think we've met the criteria for a return on our investment. The customer got the course they wanted, we had a measurable goal, and we kept production costs low. But actually we'll fail, because a semi-random string of information viewed once isn't going to change people's behavior on the shop floor.
We've spent our company's money and our time on something that can never pay us back, because we didn't challenge the customer's expectations.
What's the alternative?
To prove our value, we need to take a more active role in business performance. We need to:
Identify a measurable business goal–a change in performance, not a score on a test
Design a solution that will actually move us toward that goal–probably not an information dump
Measure the effect of the solution–did real-world performance change?
This means we need to challenge the customers who expect us to slap an elearning band-aid on their problem. We need them to see us as people who improve performance, not just people who put information online.
How can we change customers' perceptions?
We can try to change perceptions by educating our current and potential customers, ideally in an ongoing way (blog? series of emails? mini-presentations?). Examples:
Describe how a similar company creatively solved a performance problem
Send them links to elearning that actually improved performance
Encourage them to periodically ask staff what they need to make their work more effective (future job aids; process improvement ideas)
Periodically ask them to forecast their elearning needs (to avoid a state of constant emergency)
When a customer shows up, we can interrogate them:
What's the problem you're trying to solve?
How will you know you've solved it?
What have you tried so far?
Why do you think elearning will help?
Why is this long-standing problem suddenly an emergency that needs a solution in one week? (Obviously not the best wording. The point is to learn about the pressures that might be limiting the customer's perspective.)
"But we shouldn't put a price on learning!"
Some people argue that education is an investment in the future that can't or shouldn't be measured. Some corporate programs, such as leadership initiatives, probably fit in that category.
But is "How to Rotate Widgets" really a lofty investment in the future of humankind? Most of our elearning should be expected at the very least to pay for itself, and we should be able to prove that has happened. Otherwise, we're wasting energy and money that could have been used to make real improvements.
What do you think? How can we get customers to care more about the business effectiveness of their elearning? How can we get them to see us as performance consultants? Or is it enough to just provide a "return on expectations" and forget about measurable change?