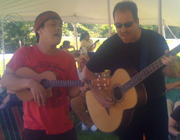 You're standing in the Daniel Boone National Forest wearing 97 chiggers and a banjo. You're surrounded by old-time musicians, and they're playing this tune:
Audio clip: Adobe Flash Player (version 9 or above) is required to play this audio clip. Download the latest version here. You also need to have JavaScript enabled in your browser.

("Natchez Under the Hill" as played by The Fatted Calf String Band)
You want to play along. But you've never heard the tune in your life. What do you do?
If you answered, "Pull out my copy of 10,273 American Old-Time Tunes and read from the book," you would be very, very wrong.
To join the jam, you need to be able to play by ear–you need to be able to wing it. You need to adapt the rules you've learned from other old-time tunes to this new situation.
To transfer their learning to their jobs, your learners need to be able to wing it, too. They need to apply the rules they learn from your courses to new situations that you could never foresee.
Unfortunately, it's hard to teach people to wing it. It's easiest to just tell them what to do, but what we need to do is to teach them how to think.
What's wrong with telling them what to do?
Let's say you're writing a short course on having difficult conversations. The course is supposed to give everyone the same basic knowledge before the face-to-face training. You're doing the section about using "I" language.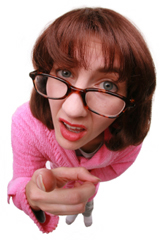 A common approach would be to write this:
Be sure to use "I" language. For example, say, "I was disappointed when you were late to the client meeting."
This might be accompanied by a photo of someone saying, "I was worried when you didn't respond to my emails." And later on there's a multiple-choice question about "I" language in which the learner chooses an "I" statement from statements that clearly aren't "I" statements.
What's wrong with this? It patronizes the learner. Or perhaps I should say, "I feel patronized when someone just tells me what to do and then gives me a simple quiz about it."
I also don't see any reason to believe that the rule is useful, plus I know that it's never that simple in the real world. So why pay attention at all?
What's the alternative?
Show, don't tell. Present a scenario that has grey areas and let the learner draw a conclusion about it. Only then make your point, if necessary. Here's one approach:
Don't say anything about "I" language. Instead, show a manager speaking with a team member. The manager says in a dialog bubble, "I feel frustrated when you're so argumentative."
On the next screen, we see the team member saying, "Argumentative?! I'm not argumentative!"
The manager thinks in frustration, "Why is he so mad? I used "I" language!"
So far you've done two things: You've introduced the concept of "I" language to the 3 people who have never heard of it, and you've demonstrated a misuse of it that makes the learner think.
Next, you could ask the learner, "What just happened?" The correct option is the point you want to make: "The manager used judgmental language instead of focusing on a specific example."
You could then have the learner choose a different statement for the manager to say. Instead of immediately identifying a choice as "correct" or "incorrect," you could use a short, one-screen branch to show the effect of the chosen statement on the listener. Of course, the correct option is a well phrased "I" statement that keeps the listener calm and receptive. Feedback points out why that statement worked.
And then, if you must, you could summarize what was just demonstrated about "I" language and its correct use. But by now, your learners have already drawn the right conclusions about it, and all you're doing is reinforcing their own thoughts.
But that sounds like a lot of work!
It's easy to list some rules on the screen and require learners to "know" them. But does simply "knowing" a rule change people's behavior?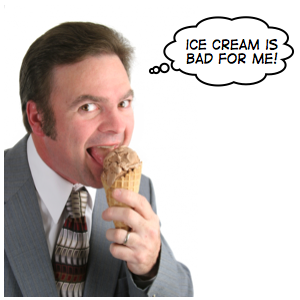 Instead, if we use a few more screens and a couple of photos to show the results of decisions, we're encouraging the learners think for themselves. And conclusions that people reach on their own are far more persuasive than rules that other people give them.
Instead of passively reading a simplistic rule that rarely works simply in the real world, our learners are learning how to think about a type of situation—so they'll be able to wing it.
What do you do to help learners learn to think? Do your stakeholders like grey areas and scenarios? Let us know in the comments.
Whew. Long post. I'm sorry I don't have time to make it shorter. I'm very busy with client work (thanks, clients!) and travel.
Related posts