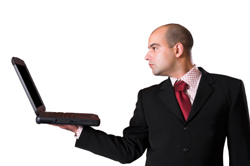 Looking for ideas? Check the new elearning samples page. It links to more than 35 online interactions that could give you good ideas for your own materials.
The list includes everything from interactive infographics to full-blown, movie-like simulations.
I've included only materials that I think have good ideas to emulate, and I'll keep adding to the list.
Know of something good? Please add it to the comments on the samples page or send it to me using the email address in the about page.
For more examples, see the responses to the Learning Circuits Blog Big Question for June.
Related posts